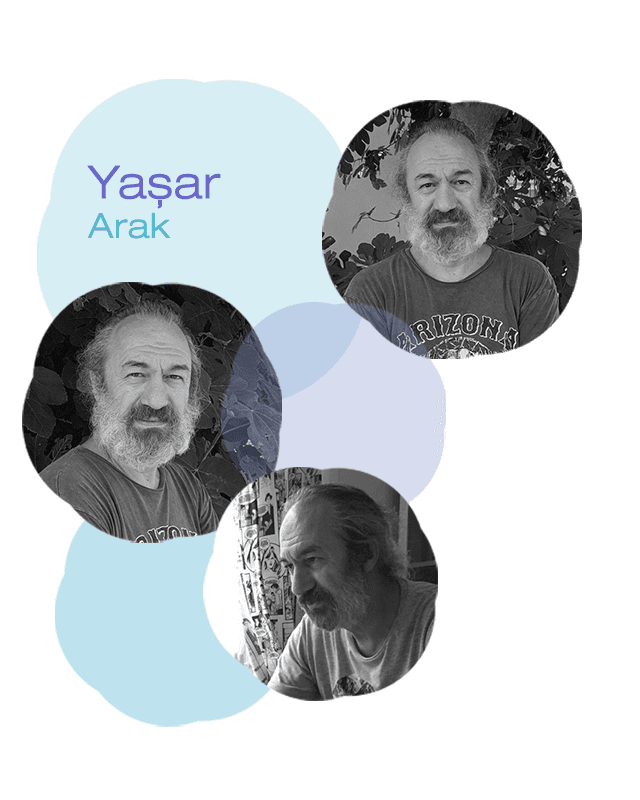 Yaşar Arak
He was born in 1964. He graduated from Gazi University, Department of Public Finance. He worked for 14 years in the script crew of "Olacak O Kadar".
He took part as a writer in the TV series such as 'Güldüren Cazibe', 'Biz Boşanıyoruz', 'Cennet Mahallesi', 'Yasemince', 'Cesaretin Var mı Aşka', 'Zoraki Başkan', 'Çocuklar Duymasın', 'Ayrılsak da Beraberiz', 'Kalp Hırsızı', 'Hayat Bazen Tatlıdır', 'Zengin Kız Fakir Oğlan', 'Aslan Ailem', 'Şevkat Yerimdar', 'Yemin', 'Love 101 -2.Season', 'Kuş Uçuşu', 'Baraj'.
He worked as a writer in Levent Kırca's film 'Son'; as a screenwriter in the films 'Elimiz Mahkum', 'Bücür' and 'El Değmemiş Aşk'. He still continues to write series and movie scripts.
Films and Series
Kuş Uçuşu (Digital Series, 2021) (Story & Treatment)
Aşk 101 (Digital Series, 2021) (Story & Treatment)
Baraj (TV Series, 2020) (Story & Treatment)
Yemin (TV Series, 2019)
Aslan Ailem (TV Series, 2017 - 2018)
Bücür (Film, 2018)
Şevkat Yerimdar (TV Series, 2017)
Elimiz Mahkum (Film, 2017)
Hayat Bazen Tatlıdır (TV Series, 2016 - 2017)
El Değmemiş Aşk (Film, 2016)
Ayrılsak Da Beraberiz (TV Series, 2015)
Zengin Kız Fakir Oğlan (TV Series, 2012 - 2015)
Çocuklar Duymasın (TV Series)
Kalp Hırsızı (TV Series, 2014)
Zoraki Başkan (TV Series, 2009 - 2012)
Yasemince (TV Series, 2010)
Cesaretin Var mı Aşka (TV Series, 2008)
Güldüren Cazibe (TV Series, 2008)
Cennet Mahallesi (TV Series, 2004 - 2007)
Biz Boşanıyoruz (TV Series, 2004)
Son (Film, 2002)