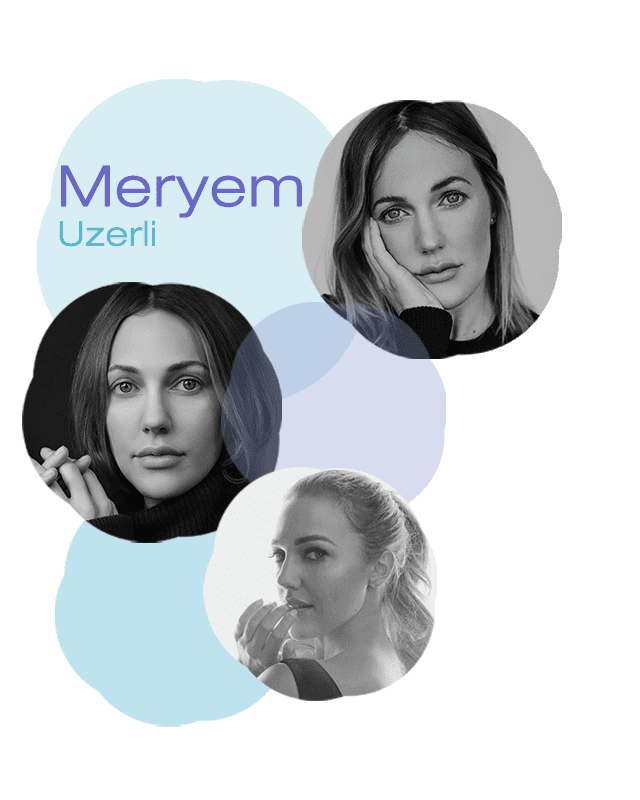 Meryem Uzerli
Meryem Uzerli was born in 1983, Kassel, Germany. She moved to Hamburg to complete her education and acting training in the acting Studio Frese, before she moved to Berlin to continue her theater career. She took a part in plays of well-known authors such as ''Shakespeare'', ''Brecht'' , ''Goldoni" and ''Büchner'' .
She played in many successful projects in Turkey and Europe, especially gained international popularity with the TV show ''Magnificent Century''. Famous for the variety of looks and depth of her characters most notably in movies like ''The Other Side", "My Mother's Wound" and ''The Hive". More recently she has begun to build success in her additional role as an executive producer; lastly in ''THE HIVE''.
She has become the face of several commercial brands and has just opened up the first of hopefully many more shops about healthy snacking called "NOSH NOSH" in Berlin.
Further more she volunteers her time to support organizations in the battle against child abuse and those that fight for gender equality. Through all of her work she has been recognized with several distinctive awards.
Films and Series
Kovan (Film, 2018)
Öteki Taraf (Film, 2017)
Cingöz Recai (Film, 2017)
Eşkiya Dünyaya Hükümdar Olmaz (Tv Series, 2017)
Gecenin Kraliçesi (Tv Series, 2016)
Annemin Yarası (Film, 2016)
Muhteşem Yüzyıl (Tv Series, 2011)
Das İst Ja Das Leben Selbst! (Tv Film, 2012)
Ein Fall Für Zwei (Tv Series, 2011)
Der Staatsanwalt (Tv Series, 2011)
Jetzt Aber Ballet (Short Tv Film, 2011)
Notruf Hafenkante (Tv Series, 2011)
Dönüsü Olmayan Yolculuk (Short Film, 2010)
Lover's Guide (Short Film, 2010)
WALF: We All Love Football (Tv Series, 2010)
Sterne Über Dem Eis (Tv Film, 2009)
The Line (Short Film, 2009)
Das Total Verrückte Wochenende (Tv Film, 2009)
Inga Lindström (Tv Series, 2008)