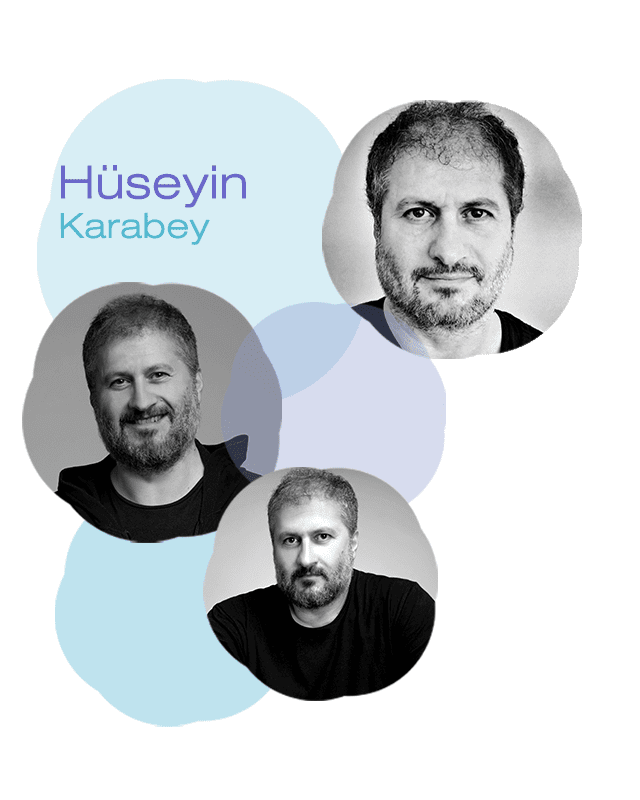 Hüseyin Karabey
He was born in 1970 in Istanbul. After graduating from Pertevniyal High School in Istanbul, he graduated from Marmara University Fine Arts Faculty Cinema and Television Department and started working in the field of documentary and fictional cinema. His short, feature films and documentaries have won many international awards.
His first feature film "My Marlon and Brando" premiered at the 37th Rotterdam International Film Festival and won the "Best Director" award at the 6th New York Tribeca International Film Festival. The movie "My Marlon and Brando" participated in 36 international film festivals and returned with many awards. Making its World Premiere at the Berlin Film Festival, "Come to My Voice" is the director's second feature film. The film participated in many international festivals; It returned with many awards from the Istanbul Film Festival, Milan Film Festival and Mar del Plata Film Festivals, including the 'Best Film, Best Audience Award'. The 'Hamarat Apartment', which he is currently working on, won awards from many places during the script phase.
Having 5 feature films, 7 documentaries and 3 short films in his career, Karabey won the 'best screenplay' award at the Dhaka International Film Festival with his latest film 'Insiders'.
As a producer, director, screenwriter and script doctor, Hüseyin Karabey gave cinema lessons as an educator at many independent cultural centers in Istanbul, at Marmara University from which he graduated, and at many workshops abroad. He worked with refugee children in London, youth in Sao Paulo - Brazil, and minority groups in Greece. He received his screenwriting training at Script factory - London. He was a jury member at many national and international festivals.
Films and Series
2018 Insiders - Feature Film
"Special Jury Price" Adana Film Festivali 2018
"Best Supporting Actress" Adana Film Festivali 2018
"Best Actress" Nurnber Germany - Turkey Film Festival 2019
"Best Original Screenplay" Dhaka International Film Festival 2020
2014 Come to My Voice - Feature Film
"Best Picture" Mar Del Plata FF 2015
"Audience Award" Milano FF 2015
"Audience Award" Mar Del Plata FF 201
"Audience Award" Istanbul FF 2015
"Best Balkan Movie" Sofia FF 2015
2011 Do Not Forget Me Istanbul - Feature Film
"World Premiere -Dubai International Film Festival"
"Best Picture" Rabat Film Festival - Morocco
"Honorable Mention and Cinematography Jury's Feature Award"- Los Angeles 7th annual South East European Film Festival
"Best Actor" Malatya International Film Festival
2010 Hiç Bir Karanlık Unutturamaz – Animation
"Best Animated Feature" Adana FF, Toronto Pomegranate FF,
"Best Animated Feature" Istanbul International Short FF
2008 My Marlon and Brando - Feature Film
"Best Director" Tribeca FF 2008
"Best Asian Movie" Tokyo FF 2008
"Best Balkan Movie" Sofia FF 2009
"Fipresci Award" Jerusalem FF, Yerevan FF 2008
"Best Actress" Sarajevo FF, Nunberg Turkish FF, Istanbul FF, Adana FF
2004 Pina Bausch İle Bir Nefes - Documentary
2001 Sessiz Ölüm – Docudrama
"Prize for Tomorrow's Cinema Emile Cantillon"
1999 Boran – Short Film
"Best Picture" 8. Tel-Aviv International Student Film Festival, - ISRAIL- 2000
"Best Picture" 8.Festival Chileno Internacional del Cortometraje – CHILE – 2000
"Special Jury Price" 7.CortoImola Festivale Internazionale Cortometraggio–ITALY
"Special Jury Price" 5. Ismailia International Film Festival – EGYPT - 2001
"Special Jury Price" Tres Continentes del documental – ARGENTINA – 2002