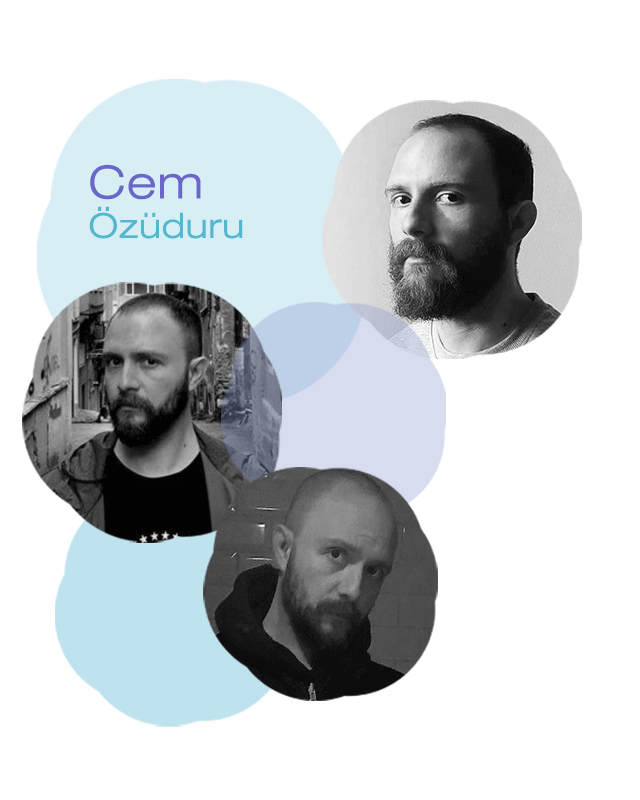 Cem Özüduru
He was born in 1987, in İstanbul. 26.02.1987. He graduated from Mimar Sinan Fine Arts School in 2010. His short stories, film reviews and comic strips are published in various magazines such as FHM, Altyazı and Antrakt. His first graphic novel Zombistan is published in 2009 by Rodeo Books. He drew a short horror story in 2011 which appeared in American Fantasy Compilation series ZombieBomb. The original artwork of this story is accepted in Angouleme's Comic Book Museum.
He became the first Turkish comic-book artist whose work has ever been in this museum. His other short story " Pinecones" has been translated to English, French and published in Algeria. He became the first Turkish artist ever been published there in 40 years since Suat Yalaz. His second graphic novel 'Breeze at Dawn' is published in 2013. He started drawing storyboards, concept arts and designs for commercials and feature films. In 2014, his third graphic novel 'Once Upon a Time in Stadiums' is published. It is an adaptation of Bülent Sağman's novel. He is the co-writer and visual concept,storyboard artist of the Turkish Horror films such as Baskın and Housewife. He directed various short films and music videos. He directed and edited videos for Sertap Erener. He wrote a screenplay called "Perihan" and with that, he won the grand prize in IKSV's Meetings on the Bridge and also has been granted with a fund from the Ministry of Culture. He also adapted that screenplay for a graphic novel an it has been published by MarmaraCizgi in 2018. The film adaptation of " Perihan" is called " The Girl with no Mouth" and Its in the post-production stages. In 2017 he started writing and directing tv series Börü; created by Alper Çağlar. After the series ended he started drawing storyboards and concept designing for the Börü: the movie. In 2018, which he also co-directed the movie.
In 2020 he started directing for mainstream television. He did the ghost writing and co-directed the tv series Yeni Hayat. Same year, the graphic novel he wrote and drawn called Night Hunger is published. After that, he wrote and directed a digital platform show called Seyyar. Seyyar is aired in PuhuTv and the first episode also was on exclusively for on night in StarTv. He is still writing new material for film and tv, and also working on his new book.
Director
Seyyar (TV Series, 2021)
Yeni Hayat (TV Series, 2020)
Börü (Film, 2018)
Börü (TV Series, 2018)
Gül (Short Film, 2016)
Akşam Yemeği (Short Film, 2015)
Scenario
Seyyar (TV Series, 2021)
Ağzı Olmayan Kız (Film, 2019)
Börü (Film, 2018)
Börü (TV Series, 2018)
Ev Kadını (Film, 2017)
Siyah Çember (Short Film, 2016)
Gül (Short Film, 2016)
Baskın Karabasan (Film, 2015 )
Akşam Yemeği (Short Film, 2015)