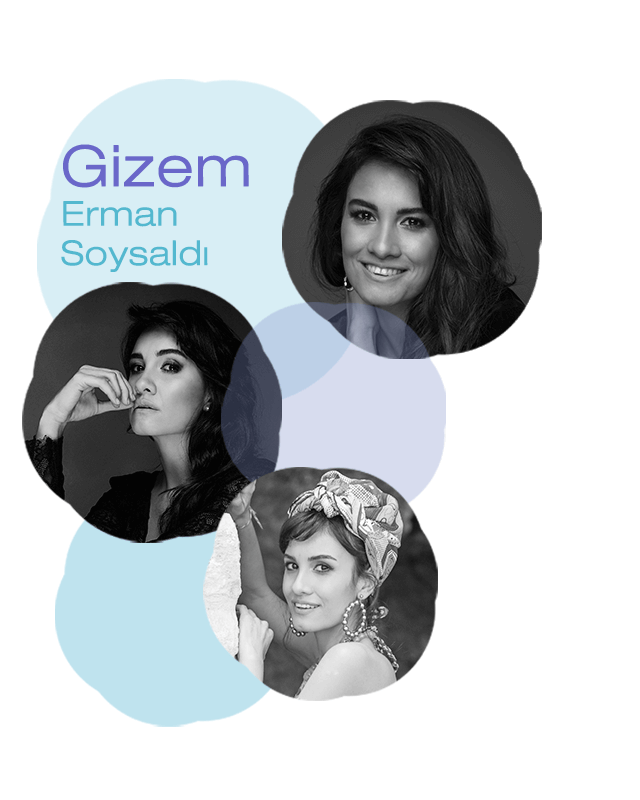 Gizem Erman Soysaldı
Gizem Erman Soysaldı was born in İzmir in 1984. She was graduated from Ankara University Faculty of Political Science, International Relations. She had an acting education from Sahika Tekand in 'Studio Oyuncuları'. During the early years of her career, she acted in the theater such as 'Asiye Nasıl Kurtulur', 'Savaş Oyunu', 'Ayı'. After her acting education, she was on the stage with theater projects such as 'İadesiz Taahhütsüz', 'Açık Pencere', 'Ruhiye', 'Kül Kadın', 'aHval'.
Lastly, she acted in the play 'Julie' in the 2018-2019 season. In 2010, Gizem Erman Soysaldı has firstly appeared in the TV Series named 'Sensiz Yaşayamam' directed by Özer Kızıltan. She also acted in the TV Series named 'Seksenler', 'Bizim Okul' and 'Arka Sokaklar'. She portrayed 'Sahmaran' character in the digital TV Series named 'Kanaga' in 2018. In 2010, she had her first cinema experience with the movie named "Istanbul Aku Datang" directed by Bernard Chaus.
Then, she appeared in Hüseyin Karabey's 'F Type Film', Erol Özlevi's 'Exile' and Christian Werner's 'Fremdkörper'. In 2018 she awarded the 'Best Actress' at '24th Nuremberg Film Festival Turkey-Germany' and 'Best Supporting Actress' at '25th International Adana Golden Boll Film Festival' with her acting performance as 'The Girl' in the movie 'İçerdekiler' directed by Hüseyin Karabey. She played 'Vuslat' character in Umur Turagay's "Portrait of A Beauty".
Films and Series
Yalancı (TV Series, 2021)
Hekimoğlu (TV Series, 2020)
Portrait of A Beauty (Film, 2019)
İçerdekiler (Film, 2018)
Kanaga (Digital TV Series, 2018)
Fremdkörper (Film, 2014)
Arka Sokaklar (TV Series, 2013 - 2014)
Sürgü (Film, 2013)
Bizim Okul (TV Series, 2013)
F Tipi Film (Film, 2012)
İstanbul Aku Datang (Film, 2012)
Seksenler (TV Series, 2012)
Sensiz Yaşayamam (TV Series, 2010)